BOG 2016: Honorary degree awarded to Dr. Segenet Kelemu
Honors reflect individuals' contribution to science, technology, arts, industry, ethics and religion
22 May 2016
The Manna Center Program for Food Safety and Security is pleased to take part in the recognition of Dr. Segenet Kelemu for receiving Honorary Doctorate degree from Tel Aviv University.
In a lively ceremony held during the 2016 Board of Governors Meeting, Tel Aviv University conferred its most distinguished awards on a remarkable group of figures in recognition of their professional and philanthropic contributions to society and their staunch support for the State of Israel.
One of those people is Dr. Segenet Kelemu, a scientist, leader, teacher and mentor in the field of molecular plant pathology. She is currently the Director General of the International Center of Insect Physiology and Ecology in Kenya, and formerly the Director of the Eastern and Central Africa Biosciences Hub. A native of Ethiopia, she has experienced the challenges and successes of African agriculture firsthand, from tending the field to directing world-class laboratories. Among her many honors are the 2014 L'Òreal UNESCO Women in Science Award and the prestigious Friendship Award bestowed by the People's Republic of China. Dr. Kelemu is a member of the International Scientific Committee of TAU's Manna Center Program for Food Safety & Security.
As part of the 2016 Board of Governors meeting, a special symposium was held entitled "Transitioning the World into a More Sustainable and Food-Secure Future"
 
Chair: Prof. Yaron Oz, Rector, TAU
Keynote Speaker:
Dr. Segenet Kelemu, Director General, International Center for Insect Physiology and Ecology, Nairobi, and 2016 TAU Honorary Doctor
Prof. Danny Chamovitz, Dean, George S. Wise Faculty of Life Sciences, TAU
Prof. Itai Sened, Head, Boris Mints Institute for Strategic Policy Solutions to Global Challenges, Gershon H. Gordon Faculty of Social Sciences, TAU
Prof. Nir Ohad, Head, Manna Center Program for Food Safety & Security, TAU
The the article in Hebrew, please visit: https://www.tau.ac.il/news/food-security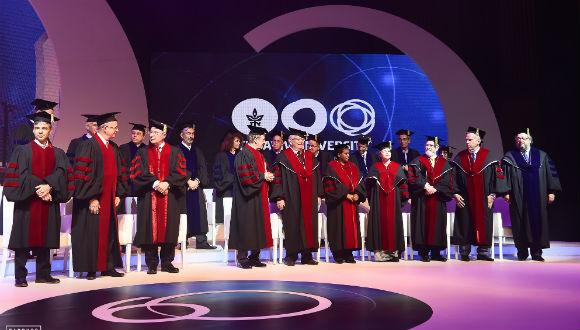 ​